Hearthstone Wood Stoves
This post may contain affiliate links so I earn a commission. 

Hearthstone wood stoves are well known for their beauty, craftsmanship and high quality materials.  
Hand crafted in Vermont, Hearthstone has been building wood, gas and pellet stoves for over 35 years.
Hearthstone also incorporates soapstone into many of their stoves which is a great feature.
Soapstone is a natural rock material which was formed millions of years ago under intense heat and pressure.
The way it was formed allows soapstone to withstand direct flames and changes in temperature without jeopardizing the stones strength or integrity. 
One major benefit of soapstone is its ability to gently radiate heat over a long period of time which works great for providing enough warmth for an overnight burn.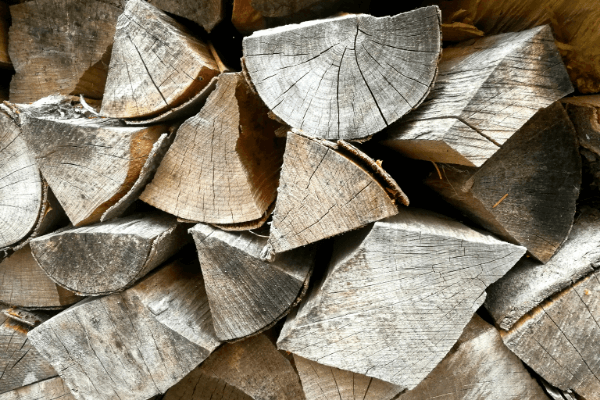 Unlike steel or cast iron which warm quickly and typically make sitting too close to the stove uncomfortable, soapstone provides a more consistent and even heat that won't blast you out of the room, but still evenly heats your entire home.  

Plus, the look of soapstone is beautiful.  
Since it's formed naturally, each piece of stone is different and almost resembles granite with its unique veins and rich colors that are accented with the stones polished exterior finish.
Hearthstone Wood Stoves - Models
With several different soapstone, cast iron and hybrid (using both soapstone and cast iron) models to choose from, Hearthstone wood stoves can be used in nearly every sized home.  
To learn more, let's look at some of the most popular stoves produced by Hearthstone:
Hearthstone Heritage 8022 Wood Stove
Capable of heating up to 1,900 square feet, the Heritage 8022 has a burn time of up to 8 hours when fully loaded with a maximum heating time of up to 12 hours.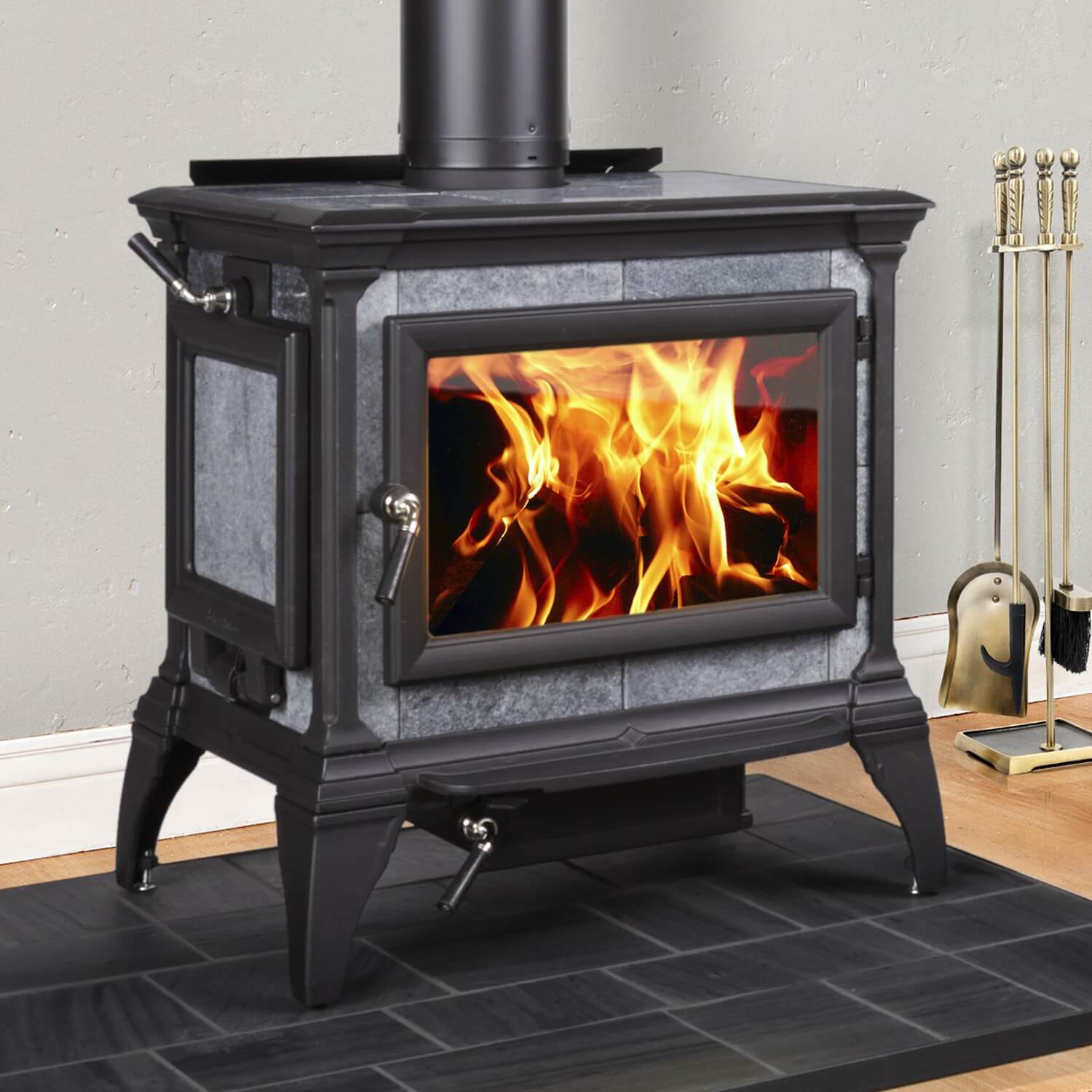 Heritage 8022
Producing 55,000 BTUs with a larger firebox, side door to make loading the firebox easier and optional top or rear flue exits, this updated wood stove can handle logs up to 21 inches in length and has an efficiency rating of 81 percent.

Although it's not a big as other models, the Heritage 8022 uses a non-catalytic combustion system and works great for medium sized homes.
Hearthstone Mansfield 8012 Wood Stove
Weighing in at 550 pounds, the Mansfield can burn up to 10 hours when fully loaded and has a heating time of up to 14 hours.
This helps cut down on the amount of time needed to load the firebox, while ensuring there's a sufficient coal bed to relight your fire the next morning.  

Mansfield 8012
Producing 80,000 BTUs, this stove can effectively heat up to 2,500 square feet making it ideal for medium to larger sized homes.  
The non-catalytic stove can handle firewood up to 21 inches in length and has an efficiency rating of 77.4 percent.

The Mansfield is a top seller among professionals because of its performance, looks and overall quality.
Hearthstone Equinox 8000 Wood Stove
Hearthstone's largest soapstone wood stove, the Equinox 8000 can burn up to 12 hours with a fully loaded firebox and has a heating time of up to 16 hours.

Equinox 8000
Producing 120,000 BTUs and heating up to 3,500 square feet, the Equinox can heat large homes and handle firewood up to 25 inches in length.  
The Equinox also has a side or rear flue exit, side door for easy loading, single lever stove control, non-catalytic combustion system and an ash tray that's removable.  
If you're looking for a large wood stove that can heat an entire home while looking great in the process, the Equinox 8000 is a great choice.
Hearthstone Homestead Freestanding 8570F
Hearthstone wood stoves cleanest burning stove with an 83.5 percent efficiency rating, the Homestead Freestanding 8570F is ideal for medium sized homes.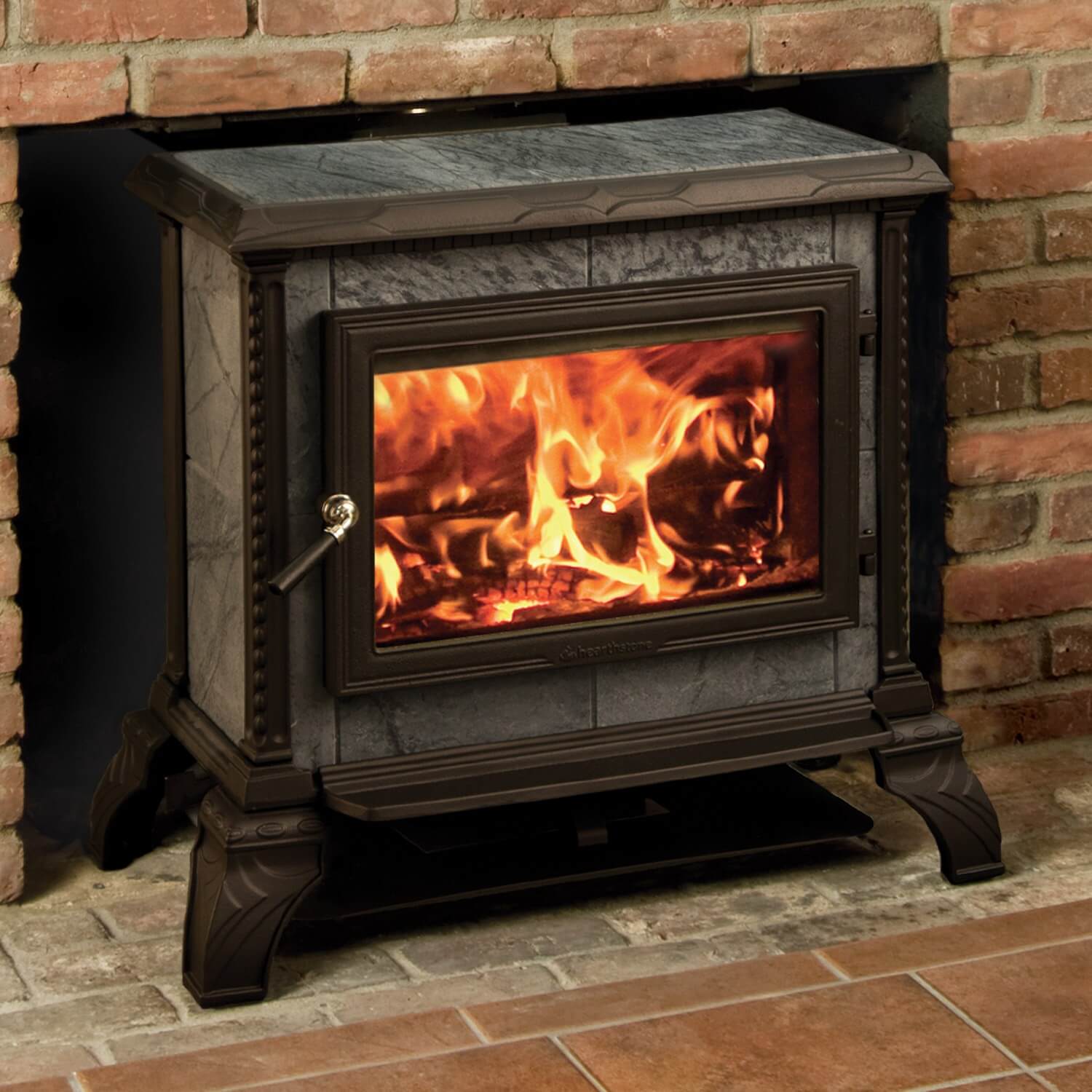 Homestead Freestanding 8570F
Producing 50,000 BTUs the Homestead can heat up to 1,800 square feet with a maximum burn time of 8 hours and a maximum heating time of 12 hours.  
With a slightly smaller firebox, the stove can handle logs up to 19 inches in length.

The stove also has a uniquely designed low flue exit, along with a non-catalytic combustion system and single lever stove control and removable ash trey.  
It can also be used as a hearth mount insert or used as a free standing stove.  
Hearthstone Phoenix 8612 Wood Stove
The Phoenix is a hybrid style wood stove that uses cast iron to produce quick heat while also using soapstone to provide long lasting radiant heat.
Phoenix 8612
Capable of heating up to 2,000 square feet and producing 60,000 BTUs, the Phoenix can handle firewood up to 21 inches in length while burning for up to 8 hours with a maximum heating time of up to 12 hours.

This model works great for mid sized homes and uses Hearthstones non-catalytic combustion that consists of small air tubes with holes on the ceiling of the unit that ignites unburnt gases before they exit the chimney.
As the gases ignite it produces an elegant and almost mesmerizing flame even at low burning temperatures.  
Hearthstone Wood Stoves - Overall
Overall, Hearthstone wood stoves are a great investment.  
Since most stoves feature soapstone construction and utilize a secondary combustion or non-catalytic design, the stoves are easy to operate, require low maintenance and look beautiful in your home.