Cast Iron Wood Stoves
This post may contain affiliate links so I earn a commission. 

Cast iron wood stoves bring to mind old country stores and railroad stations of the past.
The customers would warm themselves and exchange pleasantries gathered around the stove often taking time to play a game of checkers. 
Every family had a cast iron stove to keep warm during long winter nights and cold winter days.
Cast iron stoves were a way of life to most. 
A big growth in the mining industry around the 1820's put iron in the spotlight as a wonder material for making stoves.
Iron was well adapted to repeated temperature changes of hot and cold with no problems.
It could be cast into complex parts as well as ornately decorated pieces.
By the 1840's basic cast iron wood stove designs, some being imported, became a big business in manufacturing wood stoves for heating and cooking in the American Industry.   
Many of the cast iron stoves, especially during the "Victorian Era" were elaborately designed in iron which was cast.
Cast iron is also good for being enameled to give a porcelain look in various colors.
In modern times beginning around the mid-1970's the wood stoves gradually turned to steel plated metal due to newer construction methods requiring a secondary burn unit.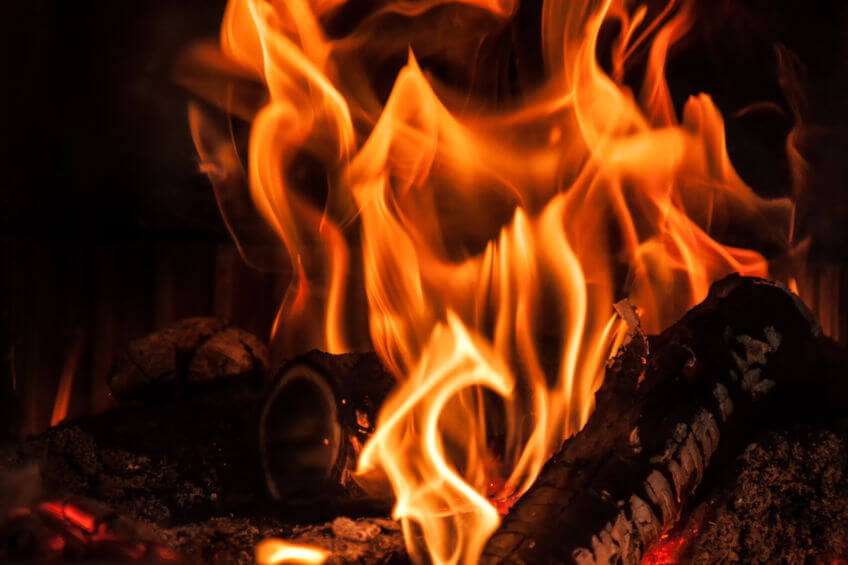 Secondary burn units were developed to meet demands for a clean and efficient burn introduced by the E.P.A. (Environmental Protection Agency) along with advanced engineering.
The market found it more economical and conventional to construct their stoves of newer plated steel instead of trying to convert the old cast iron stoves into wood stoves which met the demands of the EPA and proved worthy to all of us and the environment.
Modern Cast Iron Wood Stoves
Cast iron is still used in wood burning stove construction, but mostly for decorative purposes.
You will find only parts of the newer wood stoves on the market to have cast iron, such as the doors, or frames, and sometimes the fire boxes. 
Secondary burn units are almost always made of stainless steel.  
Some companies still sell a solidly constructed cast iron wood burning stove.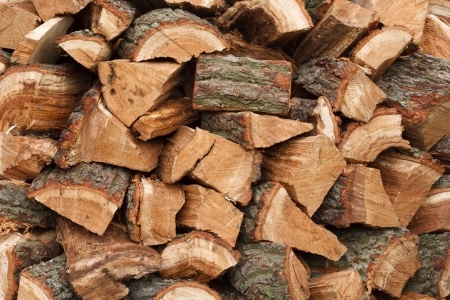 Always make sure if you are buying a cast iron stove that it is EPA certified, as the older models built before the 1970's are not, even though they are beautiful. 

It is very difficult to change an older antique wood stove to a modern one with a secondary burn unit.  
Also, finding a cast iron stove to heat a large area as a major heating source is difficult in these times.
Most cast iron stoves on the market today are made for smaller areas such as a one room rustic get-a-way.  
Lets take a look at a few of them.
Logwood EPA Certified Cast Iron Wood Stove
The Logwood is made by the US Stove Company. They make a few models of cast iron wood stoves to choose from.
This particular one is larger than most of their selections which features a non-catalytic secondary burn unit (double burn chamber), even though it would be considered a medium size stove to the average consumer.
After you put the wood into the main fire box, the gases and creosote are burned in a secondary burn process to use the wood completely and give a real clean almost smokeless burn.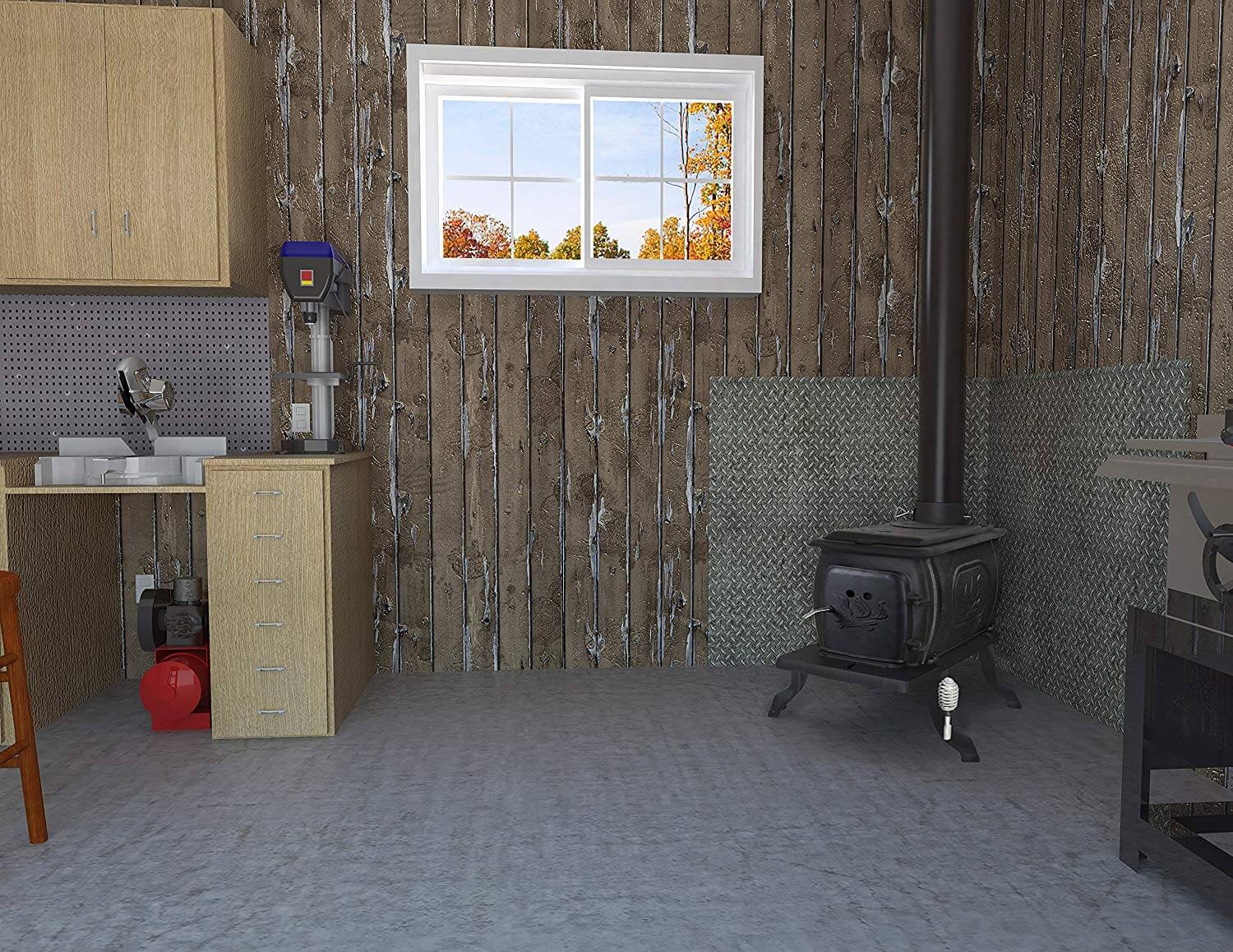 Log Wood Cast Iron Stove
This stove with its classical old fashion good looks, stands gracefully on legs and it can heat up to 1,600 square feet.
A really neat thing about this wood burning stove is the fact that it has a flat surface top for cooking which makes it a perfect country stove for cabin weekends and rustic survival.
Tea kettles can be left burning all day for a quick cup of tea and added moisture in the air (you just add more water as the water evaporates and steams into the air). 

HiFlame Cast Iron Wood Burning Stove  
The HiFlame wood burning stove model comes in Enamel Black. It features a shapely airwash fire viewing window and has a large ash pan for easy ash removal.
You will find with a secondary burn unit that less ashes are created so you don't have to clean out the ash drawer as much as you would have had to back in the old days with a wood stove.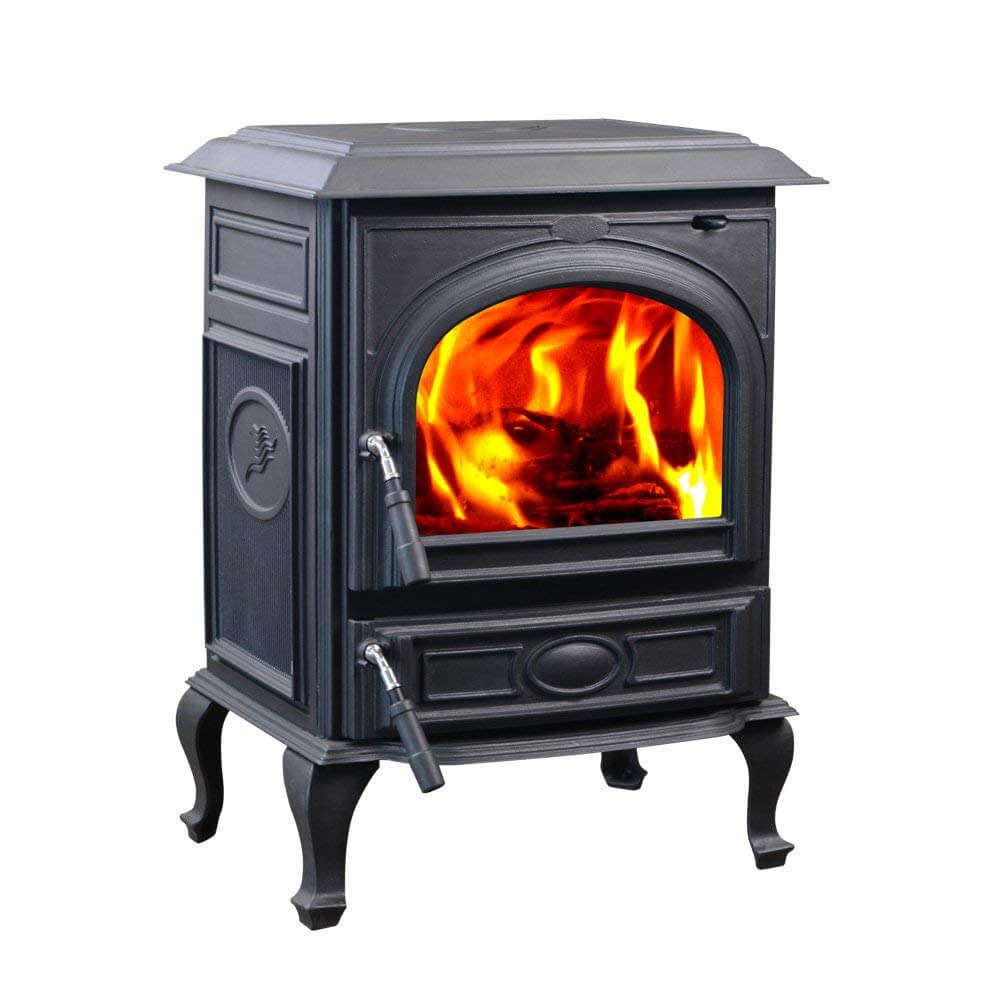 The secondary burn unit on this model is non-catalytic which is simpler and requires less maintenance than a catalytic burn unit and it is EPA Certified.
This stove heats a fairly large space for the cast iron models of today, and is capable of heating up to 1,800 square feet.
The nice streamlined looks will compliment any decor.

Cast Iron Wood Stoves - Overall
Cast iron wood stoves of the past were seemingly more valuable than the cast iron stoves of today.
Many beautiful antique cast iron stoves are still found intact. 
A good example when looking at cast iron of the past, and cast iron of today, is to take a look at cast iron skillets and other cast iron cooking utensils.
The "old school" ones had a better look and feel to them, even though they were not indestructible, could crack, and were prone to rust.
The same goes with cast iron stoves of yesterday and today.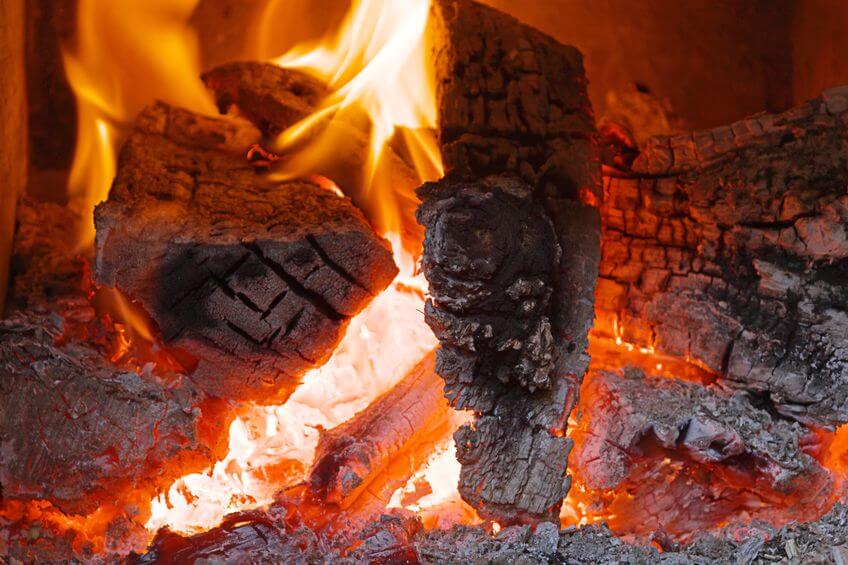 The modern market cannot seem to replicate the wood stoves of the past.
Competition with modern metal materials such as carbon steel plating and stainless steel have made it difficult to produce the quality cast iron of the old days as we know it. 
You will find that the most desirable wood stoves in these modern times are made from steel plate or soapstone.
Many of the cast iron wood stoves on the market today are imported from China and you will find that the cost is comparatively cheaper than the intricately engineered and highly efficient ones of the newer metals on the market.