Antique Wood Burning Stoves
Antique Wood Burning Stoves
This post may contain affiliate links so I earn a commission. 

Many view antique wood burning stoves as being highly sought after collector items for display only and would be surprised of the number still in use, especially in the remote Ozark Mountain areas and the Appalachians, home to the Foxfire book series.
The Foxfire book series, magazines, and specialized books, concentrate on subjects such as wood stove cooking and show a way of life that still exists in America today where many view their antique stoves as a necessity for heating in the winter. 
Advancements are being made to replace or update the stoves still in use to the more efficient clean burning EPA standards. 
The durability of the surviving wood stoves is remarkable and you never know for sure where they will make an appearance.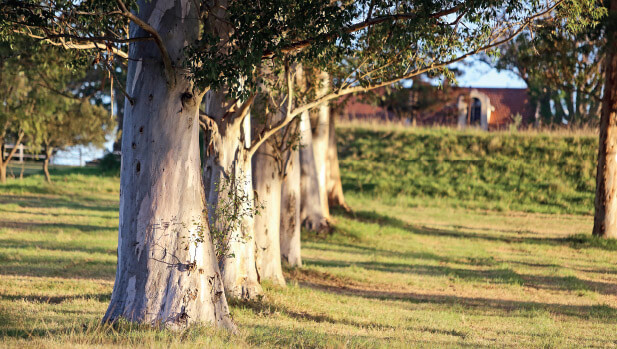 For the collector, antique wood stoves are divided into types and models such as pot bellied stoves, the ornately fancy Victorian types, parlor stoves, and country stoves.
They can be viewed in museums and private collections all over the Earth where many are restored and maintained in mint condition.

Antique Wood Burning Stoves - History
The first quantity manufacturing of antique wood burning stoves began in Germany around 1728, and were known as "Five Plate" or "Jamb Stoves."
The plates of the Jamb stove were often very ornate, and are considered collector's items, even if it is only one plate.  
Another product of the 1700's is the beloved Franklin Stove, invented by Benjamin Franklin in 1728, which would prove to be an inspiration for many wood stoves in America today.
Franklin Wood Stove
The main features of the Franklin stove (which is more like what we would call a fire place insert) was a hollow baffle which directed the flow of the fire's fumes, and a flue acting as an upside-down siphon.
Modern day usage of the original design of the Franklin stove is discouraged because of high fire hazard due to its open front, and the fact that wood burns way too fast in it, creating an uncontrollable fire.
As time progressed the wood stoves known to us as antique wood burning stoves became the more classically sought after stoves we know today. 
They were used to keep families warm at home in the heart of America, and also in times of war for the soldiers.
Many highly efficient and sturdy wood stoves made their rounds in America and a couple are shared here that are still in use and have an interesting history.                                                                                   
Charter Oak Antique Wood Stove with Eisenglass
This antique wood burning stove, still in use on occasion, was selected to share because of its Eisenglass viewing windows.  Eisenglass is made of thin compressed sheets of the mineral "Mica."
It is transparent, flexible, and you have probably seen it before in old antique items.
Eisenglass flakes apart when peeled and turns bluish silver or yellowish in color as it ages.
You will often see this in antique stoves that have fire viewing windows in comparison with the modern wood stoves which have ceramic viewing windows.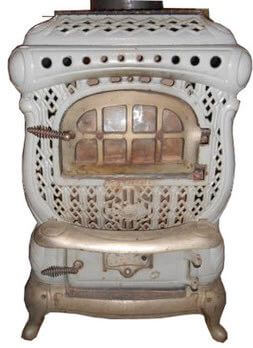 Charter Oak Stove Company, the maker of this stove, came into business in 1885, when the owners of Excelsior Manufacturing Company in St. Louis, Missouri, made a deal with the soon to be owner of of the new "Charter Oak Stove Company". 
Giles F. Filly, founder of Charter Oak Wood Stove Company, designed and invented wood stoves impressing the owners of the Excelsior Manufacturing Company and they saw opportunities for expansion. 
The manufacturing company and equipment was turned over to Giles F. Filly and the Fisher family, relocated as a hardware business in Quincy, Illinois.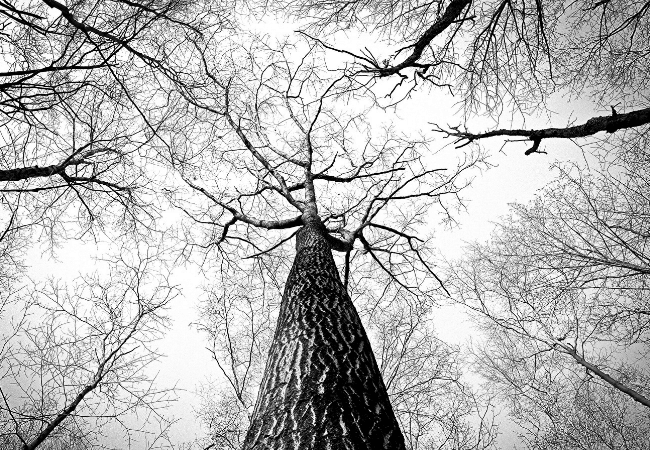 Stoves were to be shipped to the Fisher's hardware business on the Mississippi River from the now established Charter Oak Stove Company to sell. 

Almost all households owned two wood stoves, one for cooking and one for heating, so the wood stove sales were thriving even in the smallest of towns. 
It was not uncommon in these times to see a boat going down the river with smoke coming from a wood stove to heat the occupants in the winter months.
The Charter Oak Stove Company had many productive years until it finally closed its doors in 1949.
U.S. Army Cannon Heater #18 - Antique Wood Burning Stoves
The U.S. Army Cannon Heater is a solid cast iron pot belly stove and was used in World War I, World War II, and the Korean Conflict to keep bunkers warm for the U.S. troops.
This U.S. Army Cannon Heater (in the photo) is still being use today as a reliable extra heating source for a family nestled in the hills of the St. Francois Mountains.  
The St. Francois Mountains rise above the rugged Ozark Plateau and features the highest mountain in Missouri called Taum Sauk.
This wood stove feels right at home in the beautiful wilderness where plenty of wood is available as a natural heating source. 
Fallen trees and left overs from loggers provide plenty of seasoned hardwood such as Oak and Hickory.
Cedar and Pine are also plentiful for quick starting fires and use as kindling.
The U.S. Army Cannon Heater comes apart into sections for easy transport, as was necessary during war.
This is a high heat output wood stove and is valued around a few thousand dollars on today's antique buyer's market.
It doesn't really go down in value because it is built to last and as strong as an army tank with the good looks of a classical wood stove like you see in paintings. 

Antique Wood Burning Stoves - Overall
Antique wood burning stoves are wonderful to own and a beautiful nostalgic addition to your decor whether they are operational or not.
There is not quite anything that beats warming your self next to a wood stove on a cold winter morning. 
Many of the antique wood stoves are being refurbished by companies specializing in such for added value in using your antique wood stove to its fullest extent.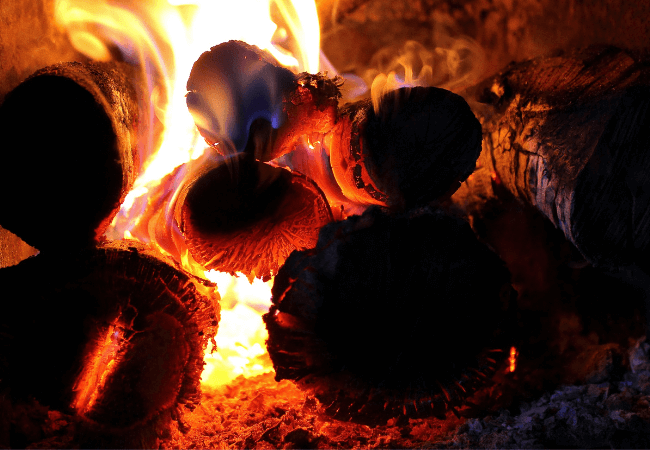 Special secondary combustion units can be added and crafted into your stove for clean fires and full efficiency in burning wood completely with little left over smoke going up the pipe or chimney.
The actual smoke coming from a wood stove, that you see coming from the pipes, lessens the fuel value because of gases created when burning wood.

With a secondary combustion unit built into your antique wood stove your fire will last longer and less wood will be used because you have your main fire (in the fire pit or box) which gives off the gas and smoke, and then the gas and smoke goes into a secondary fire which burns up all of the gasses and smoke creating a longer fire with more heat.
Wood burning stoves are becoming very popular in these times of high energy costs using fossil fuels and nonrenewable heating sources.
Sustainable energy is very important and you get this by using wood as your heating source and incorporating a secondary combustion unit into all antique wood stoves in use.
Antique wood stoves are a rich part of our history, and they are still strong in America and all over the world.