Lightweight Wood Stove
This post may contain affiliate links so I earn a commission. 

A lightweight wood stove allows camping and outdoor enthusiasts to take the warmth and soothing glow of a wood stove to places they've never imagined possible.
There are many places that the human spirit of adventure takes us, and through continued development we learn to go more places while taking our essentials with us.
By giving people the ability to carry a wood stove deep into the wilderness to provide indoor or outdoor heat and cooking for tents or cabins, those staying there can minimize their ecological footprint.  
This results in a cleaner landscape left behind, leaving less waste needed to be hauled back out of the woods. 
Using A Lightweight Wood Stove
Fire is a primal element of human existence.
Without it we suffer from many difficulties related to food and water as well as other aspects of comfort and health.
Wood stoves allow this to be done with less wood and therefore less overall work for you to keep up camp.

Unless you have ever experienced them how could you imagine that hauling a wood stove into the deep woods would be anything other than an enormous chore.  
Titanium folding wood stoves are anything but heavy though.
The Winnerwell Fastfold Titanium Tent Stove weighs only 4 pounds, including the stove, 9 foot rolled titanium chimney, spark arrestor and tent protector. 
It can be folded flat and easily packed into the most remote locations.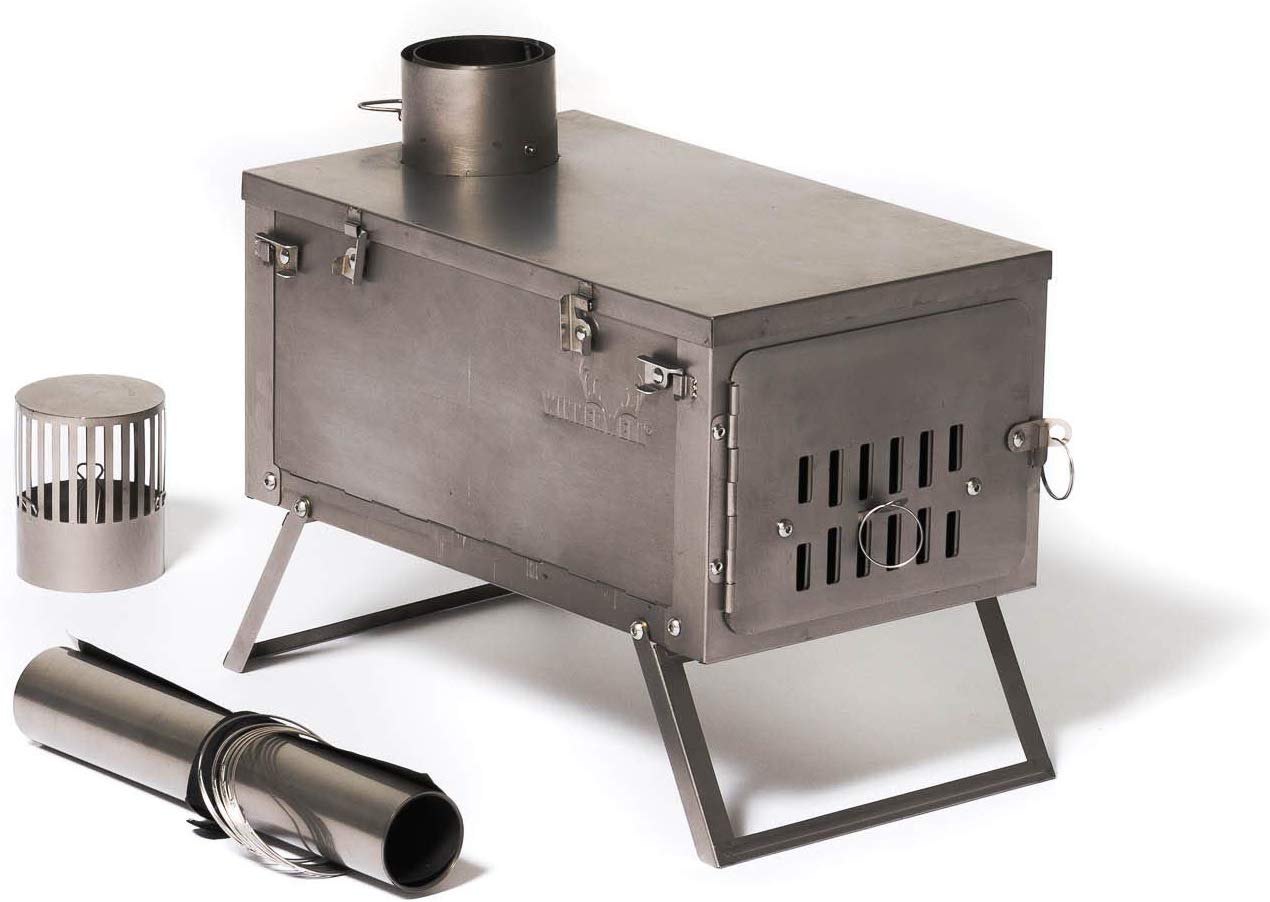 Winnerwell Fastfold Titanium Tent Stove
While it is true that it is not the largest wood stove, and it would hardly seem ideal for a home, what it provides in such a small package can quite literally be a life saver.  
This type of stove can be used to heat tents and cook in compatible teepee and pyramid tents, where they will give you hours of heat in the coldest weather as well as a convenient and efficient cooking surface. 
Like other lightweight wood stoves the Winnerwell Fastfold Titanium Tent Stove can be used as a stand alone unit as well for outdoor cooking and warmth.

Not everyone is looking for the lightest and smallest lightweight wood stove though. 
Sometimes you might be willing to haul a little more weight for a larger firebox. 
With a firebox that is 11 inches wide, 17 inches deep, and 8 inches tall the Guide Gear Outdoor Wood Stove will throw more heat and stay hot longer than the smaller folding camp stoves.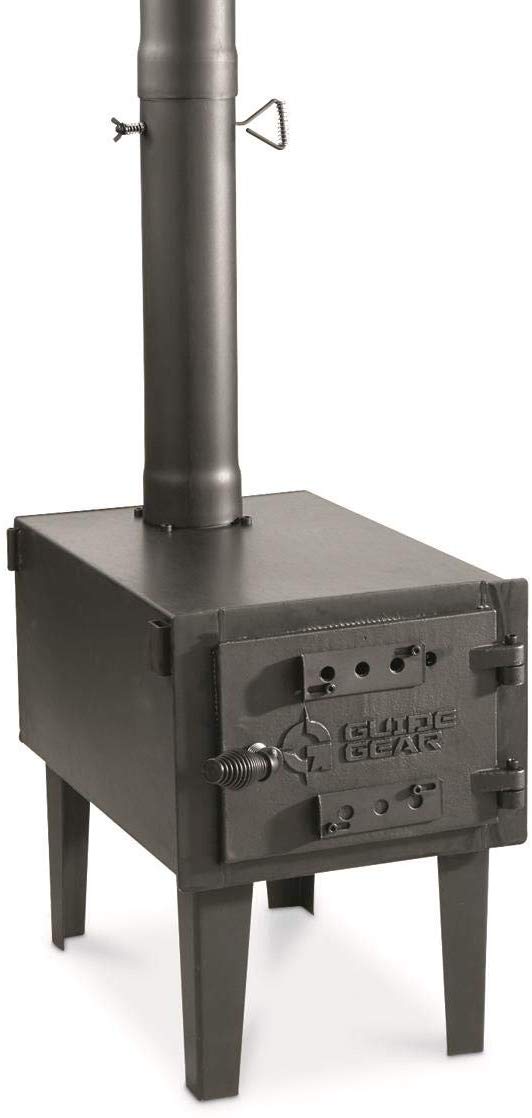 Guide Gear Outdoor Wood Stove
Its galvanized steel and cast iron construction is a bit more robust than your average lightweight wood stove at 47 lbs.
While 47 pounds is not the lightest by any stretch of the imagination, it can be perfect for more permanent installation like a deep woods camp/cabin or for camps a little closer to civilization.  
With their lightweight and portable nature the lightweight wood stove can open many new opportunities to live more comfortably, efficiently and in harmony with your surroundings.  
Whether you are hiking, rafting, hunting, foraging or living in the deep woods off the grid, there is a lightweight wood stove that can help you pack in and out while keeping you warm and comfortable.
Lightweight Wood Stove For Garages And Small Shops
Even though these lightweight wood stoves are designed to use remotely, there are people who will utilize them as small space heaters for garages or sheds.  
You should always check for local laws governing the use of wood stoves and building codes associated with them, but in some cases these lightweight wood stoves could be useful when periodic heat is needed. 
If you are looking to fire the stove constantly for heat then consider the overall construction and choose the one that is more durable with a reputation for longevity.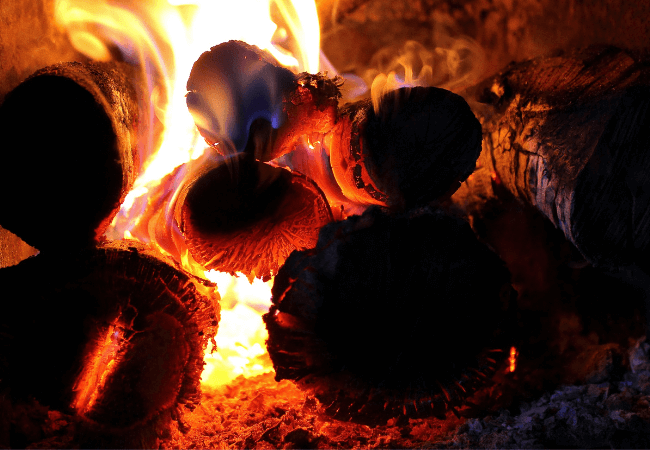 Lightweight wood stoves can have specific requirements for usage that wood stoves for other applications do not. 
You should always review the directions completely to make sure that you do not accidentally damage the relatively thin metal of some of the folding wood stoves.  

Like any tool it is only as good as the knowledge of the person using it.
A tool misused can become dangerous and a liability to those who use it without care.
Make sure you are familiar with any stove you use and how it behaves before you ever consider using it in your sleeping environment.
Lightweight Wood Stove - Overall
If you are looking to buy a new lightweight wood stove for the first time or to upgrade from an older model you already use, it is important that you honestly consider what applications you want to use it for. 
If you are looking to have it to support deep woods camping make sure that it is compatible with your tent or other form of temporary habitation.
If you are buying new gear together look around for reviews and opinions of other people who have used them like you intend to. 
They are more specific in their intent than home and shop wood stoves that many people are used to, but when you are educated about them and their safe usage they are just as useful, and provide a bit of the warmth of home in the harshest environments.