Camping Wood Stove
This post may contain affiliate links so I earn a commission. 

The camping wood stove is an essential piece of equipment for those wanting to be able to live outdoors and far off the grid in all 4 seasons. 
Whether it is for a rustic cabin or tent camping, a portable wood stove offers convenience and safety.
These stoves can help to keep your ecological impact minimal by allowing you to use far less wood for cooking and heat than you would in a campfire.
Camp wood burning stoves are as diverse as the types of camping. 
Ultralight folding camping wood stoves can be easily packed in whereas cabin stoves may take more effort to get far off grid, but can be left in place in permanent structures. 
Just like their home and industrial family members, the camping wood stove must be respected.
Follow any directions and use common sense anytime you are working with fire.

Camping Wood Stove Benefits
Camping wood stoves that can be packed into the deep woods open up opportunities to backpackers.
The benefits of having a small heating and cooking appliance that can be used inside of compatible tents and lean-tos or outdoors cannot be overstated.
The lightest of these stoves are 4-7 lbs complete with a chimney and can be folded or broken down for easy packing.
This is much more convenient and efficient than hauling lots of gas bottles for your stove in and back out of the woods.
It helps to reduce your overall waste and reduce your pack weight.

Camping wood stoves give you options to help make your stay in the woods easier and more productive.
Stoves like the Happybuy Tent Wood Stove can be used both inside properly equipped tents or outside.
It comes with everything you need including a chimney that packs away inside of it for easy transport.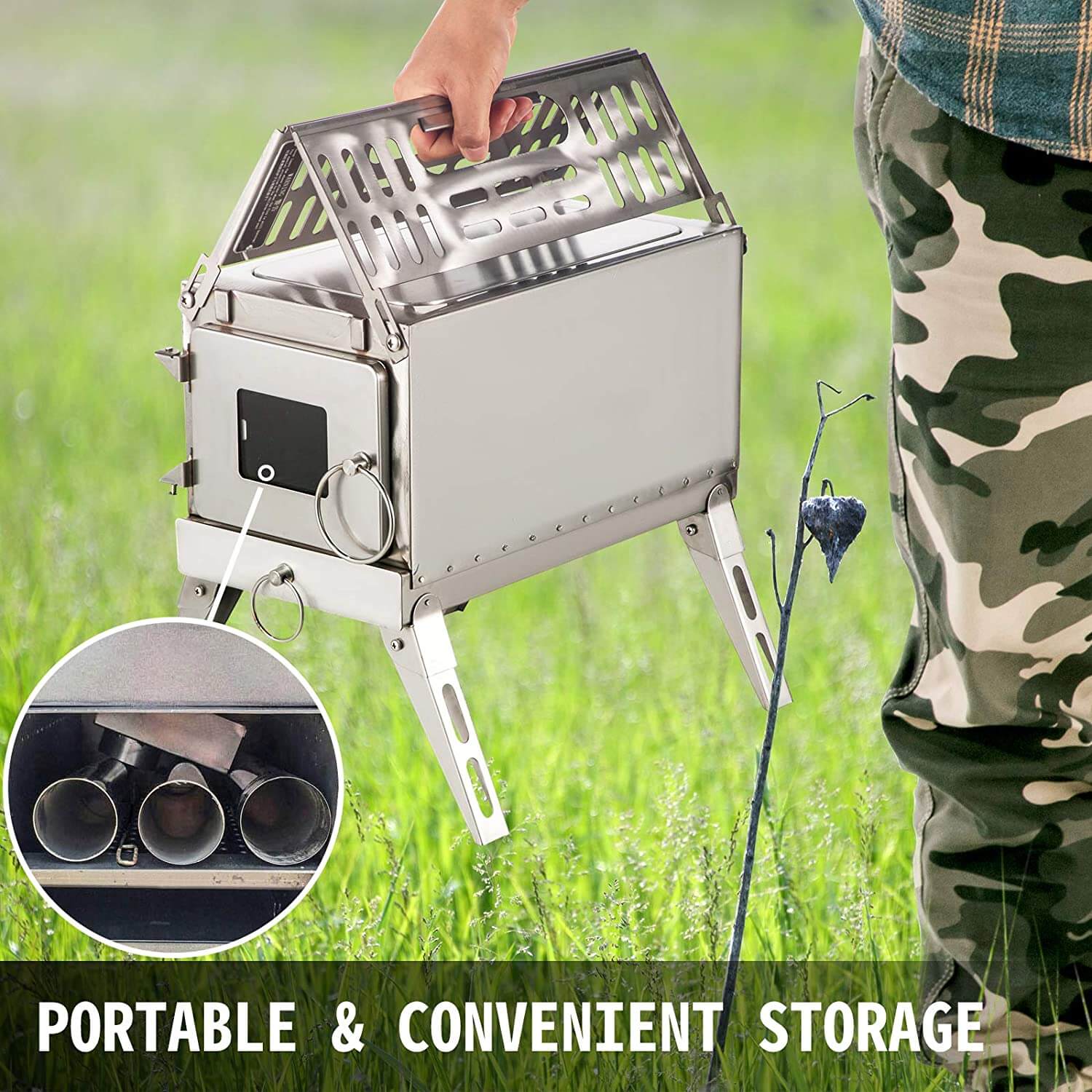 Happybuy Tent Wood Stove
Camping wood stoves are especially important when you consider weather.
Even going in with the best preparation and research, you cannot guarantee that the weather will cooperate. 
Cooking in the rain is a drag.
Health and sanity can be pushed to extremes when sunny weather turns to days of constant precipitation.
In drier conditions camping wood stoves can help protect the woodland from unintended brush and forest fires. 
Containing and controlling your fire helps to ensure that it stays only where you want it as well as making it easier to tamp down or put out.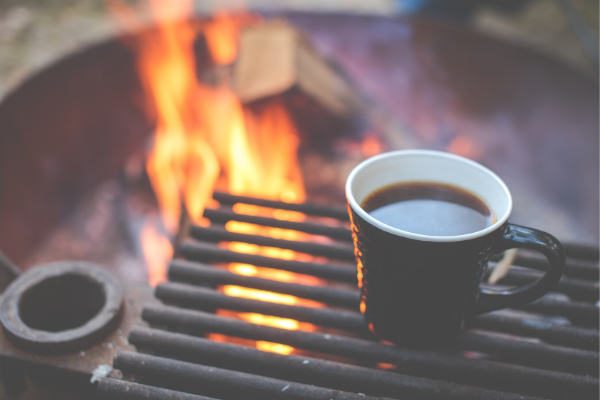 For those who really want to pack light and simply there are other options that are designed to utilize wood for cooking in the wilderness.

Weighting in at just over a pound the Lixada Camping Wood Burning Rocket Stove is tiny and packable.
Rocket stoves are quick and efficient. 
They are designed to easily heat water and food by burning any biofuels.
The Lixada Wood Burning Rocket Stove is about the size of a camping gas burner setup, and functions much the same way by providing a stable base for your cooking pot.
While it cannot be used inside, small stoves like this can provide a source of camping or emergency cooking and heat.
For many people camping is about freedom and options.
It gives you a chance to define your space and activities according to your needs and wants, not a predetermined set of conditions. 
This is why camping means so many different things to different people.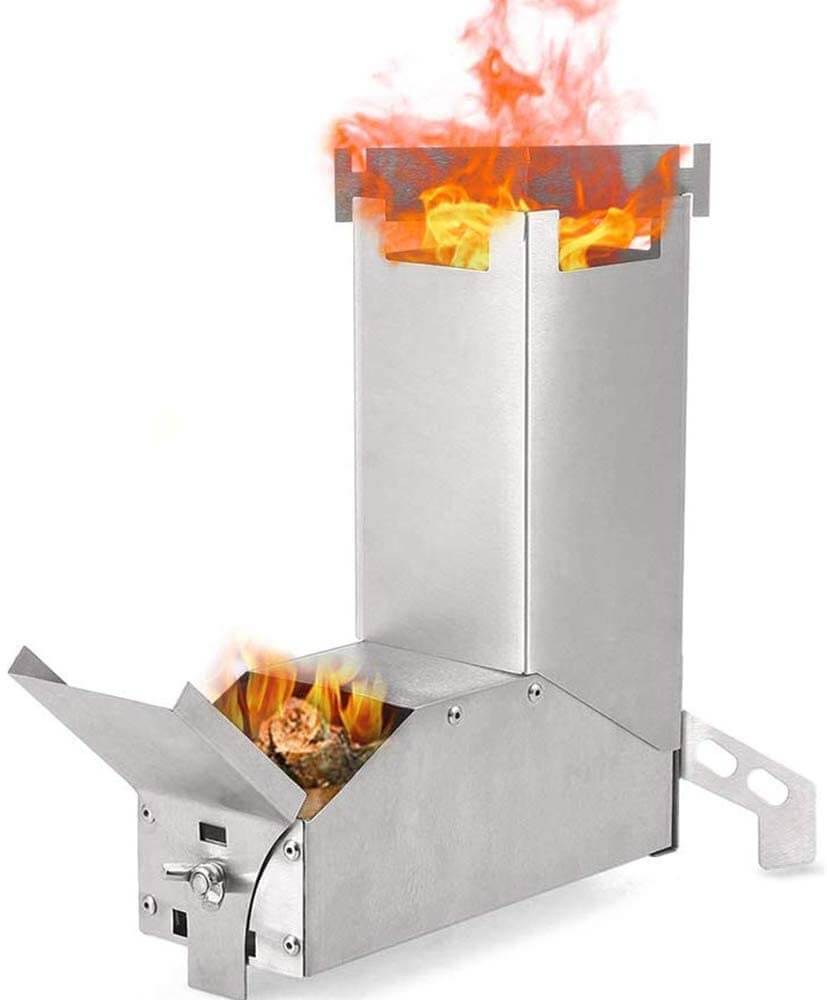 Collapsible Wood Burning Stainless Steel Rocket Stove
To some people camping can be done from their car.
To others camping can only be truly done out of a backpack at the end of a long day hiking.

Then there are those who just want a fire in quiet space outdoors but prefer slightly more permanent accommodations.
For these types of campers their idea of a camping wood stove is a bit different. 
Outfitter Tents can provide many of the comforts of home wherever you want it. 
The camping wood stove for this application can be a bit bigger to provide a more substantial mass for heating and cooking capacity through all seasons of outdoor living.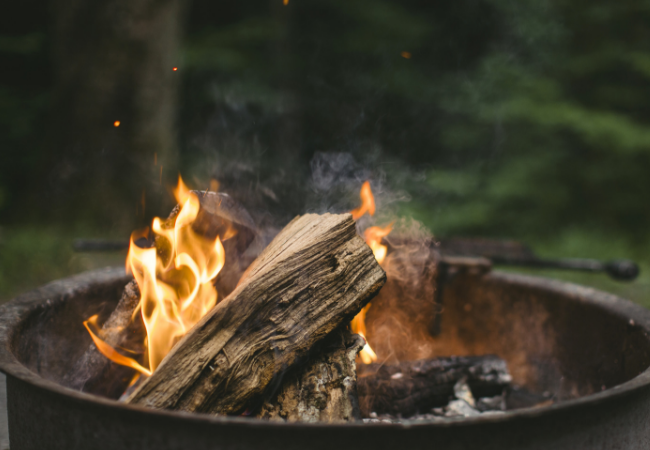 It is common for these camping wood stoves to have a heavier body and thicker metal for the long term durability needed for regular use.

Larger top plates for cooking and warming and drying racks attached to the stove are common on these types of camping wood stoves and provide a utility needed when you are cooking and cleaning outdoors.
Wood stoves like the Camp Chef Alpine heavy duty cylinder stove give you features you can really use anywhere that your outfitters tent can go, or even just out of the back of your car or truck.
Camping wood stoves like this are designed to be used and abused much more than the comparably fragile folding ultralight camping wood stoves.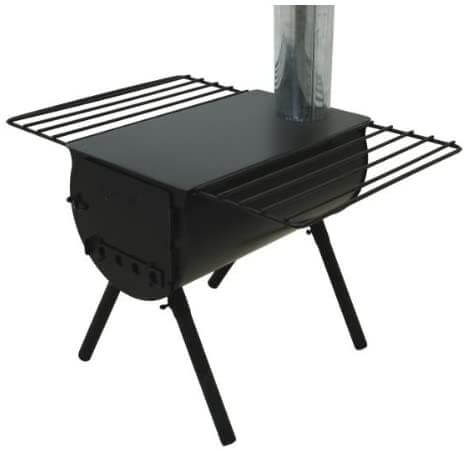 Camp Chef Alpine Heavy Duty Cylinder Stove
It is important to know what you want to get out of a camping wood stove before investing in one.
The needs of a deep woods four season backpacker are very different than the needs of a concert or sports event tailgater.
Camping Wood Stove - Overall
Thankfully whatever you get up to outdoors there is a camping wood stove that could help you do it safer and more comfortably.
Camping wood stoves come in a broad array of styles and types.
If you do your research on them and seriously consider what types of activities you do, then it will not take long to find the perfect one for you.
It is important to take care of your health and safety to get the best out of yourself no matter where you are or what you are doing.
A camping wood stove can be a real performance enhancer helping you to get the best out of yourself.