Firewood Cart
This post may contain affiliate links so I earn a commission. 

A firewood cart is a fireplace accessory that helps you move large amounts of firewood with less energy.
Using a cart will make it easier to haul firewood from your wood shed to your house or outdoor wood furnace by hauling more wood with fewer trips.
Standard carts vary in design depending on the manufacturer. 
They generally are designed to hold up to 200 pounds of firewood and have large pneumatic tires to make pulling the cart easier.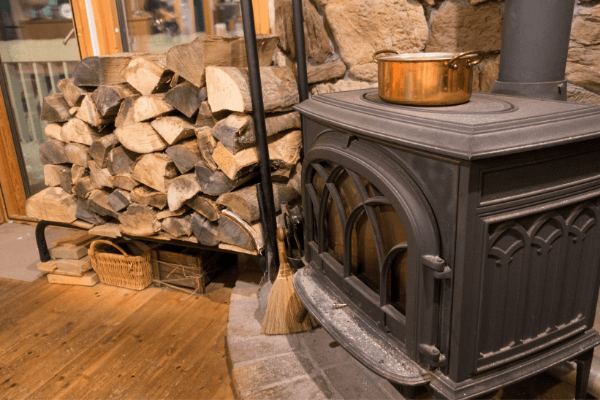 The large air filled tires allow the cart to move over rough terrain or up steps and into your home.

The carts are often slim and lightweight allowing them to easily fit through a standard doorway.
Benefits Of A Firewood Cart
If you have ever carried firewood by the armload you know that it can be back breaking work.
Trip after trip can be time consuming, exhausting and hard on your body.
Most people who have used a cart agree that it's a great investment.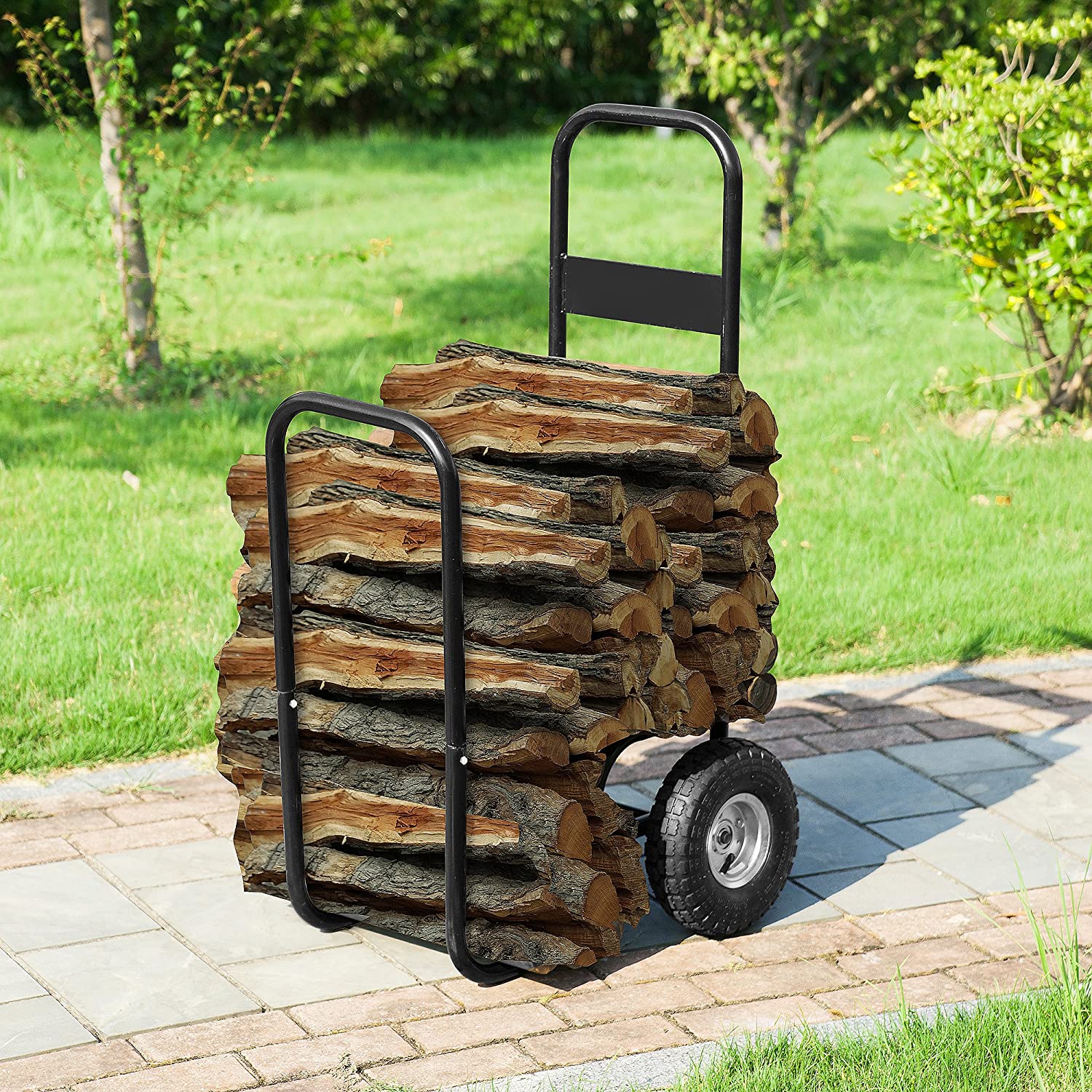 Firewood Log Cart
A cart can also be beneficial in moving other items other than just firewood. 
Livestock feed, household items, tools, and many other things can be easily moved with the cart making it a great multi-purpose tool.
The carts are designed to be filled with material, tilted back on its wheels and then pushed or pulled to your destination depending on your preference.
If you've ever used a dolly to move heavy objects you'll appreciate using a firewood cart because the benefits are very similar.
Some carts also come with an optional nylon style sling that fits over the cart.
The sling is designed to limit the amount of wood chips and dirt from falling off the cart and into your home.

How Much Do They Cost?
A decent cart will cost anywhere from $50-$200 depending on the style and manufacturer.
They can be purchased at many local stores but many varieties can be found online.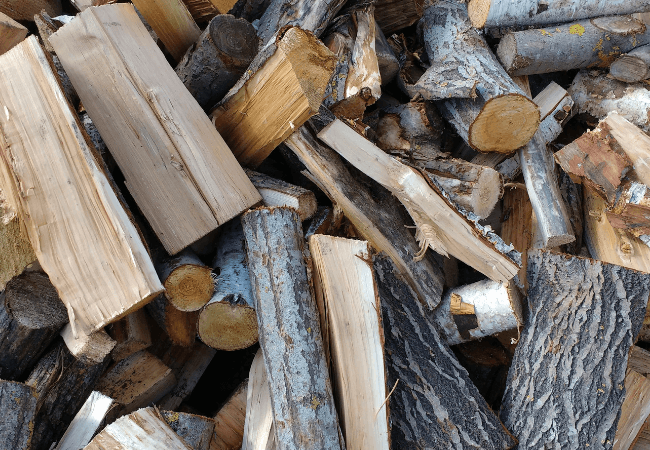 Even though the initial investment can seem like a lot, over time I think you'll find it was money well spent.  
The amount of time you save hauling firewood will be substantial and best of all, your lower back won't hurt as much!
Hauling Firewood In The Winter
Although hauling firewood with a cart works great, it can be a little difficult if there is snow on the ground.
If you live in a location that receives a lot of snow, you have a couple of options.
You could shovel or snowblow a path from your house to your woodpile to make rolling the cart easier, or you could use something else in the winter to haul your firewood.  
Once the snow begins to fall I like to switch over to using a sled to haul firewood.  
In my opinion a polyethylene Jet Sled with molded runners works the best.

Shappell Ice Fishing Jet Sled XL
A good sled will cost about $100-$200 but I think it's a great investment.  
I bought my Jet Sled about 10 years ago and it still looks and functions like new.
I use the sled for everything......including firewood.  
The sled is large enough to hold my ice fishing shanty and equipment and it also works great for dragging a deer out of the woods.
I just drag the sled over to my firewood shed, fill it up with firewood then drag it up to my house under the covered porch.  
A full sled of firewood will heat my house for several days depending on how cold it is outside.
Firewood Hauling Options You Should Avoid
They also make 4 wheeled carts that are designed for general landscaping and home or garden use.
Although they may work okay for hauling lightweight items, a firewood cart like the one shown below is not heavy duty enough for hauling wood.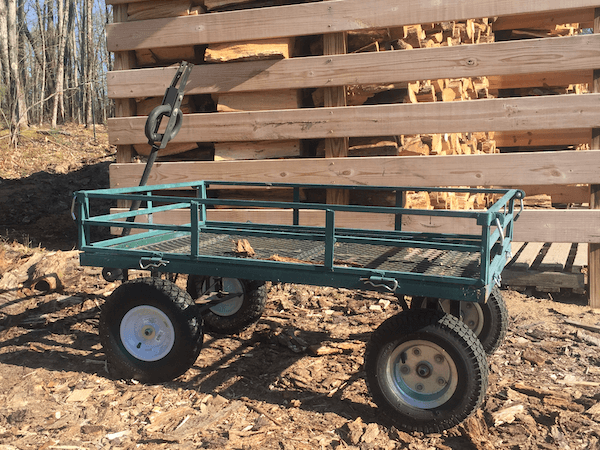 Unfortunately the weight of the firewood would cause the bearings to break away from the rim.
After purchasing and changing out 4 broken rims over the course of a couple years I decided I needed to buy something that was capable of hauling heavier weight without breaking.
Not all 4 wheeled carts are bad, but if you're going to purchase one, make sure it's heavy duty and capable of hauling the heavy weight of firewood.
Firewood Hauling Options For Large Amounts Of Wood
Not everyone has access to a large farm tractor or pull behind trailer to haul firewood, so a great option is to utilize your garden tractor!
Pull behind garden carts work great for hauling both split, seasoned firewood and freshly cut rounds.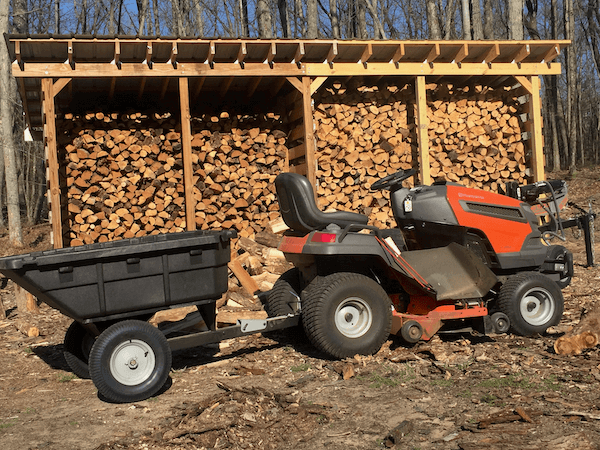 Ohio Steel Swiveling Poly Dump Cart
I purchased this Ohio Steel dump cart about 2 years ago and I absolutely love it!  
The strong and sturdy cart is designed to hold 1000 pounds and it has a quick release foot peddle for dumping the bed making it easy to unload gravel, topsoil and of course.....firewood.
Firewood Cart - Overall
Whether you are hauling wood to your truck or taking it up to the house, a firewood cart can make the job faster and easier.
A good quality cart should last several years and is a great investment especially if it seems like you are constantly carrying firewood.