Best Chainsaw Under 200 Dollars
This post may contain affiliate links so I earn a commission. 

What's considered to be the best chainsaw under 200 dollars for cutting firewood or cutting down a tree in your backyard?
With a little shopping around you'll find there's several really good options to choose from.
For starters, you should consider what you will be using the saw for, and what bar length you should choose.
In my opinion, most homeowners will need at least a 16 inch to 18 inch chainsaw.
Some people like a 14 inch bar, which is fine if you aren't going to be cutting any larger limbs or trees, but the extra length of a 16 inch or 18 inch bar can really come in handy.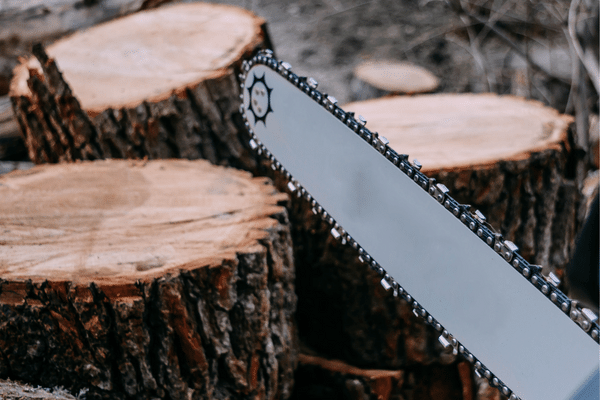 As a rule of thumb, always add 2 inches to the thickness of the logs you are cutting.

Therefore a 14 inch chainsaw will cut a thickness of 12 inches or less, efficiently.
You'll also want to compare gas vs electric options to see which one better suites your needs.
As battery technology improves, electric chainsaws are becoming very popular, however you'll still need to have access to multiple batteries or a charging station if you plan on cutting a lot of wood.
Gas chainsaws on the other hand will run all day long, providing you have enough gas on hand.
While gas saws give you the option to cut a lot of wood, you'll have to deal with the loud noise and unpleasant smells of a small engine.
Best Chainsaw Under 200 Dollars - Gas And Electric Options
To help you choose the ultimate backyard chainsaw, let's take a closer look at a few popular options.
Husqvarna 120 16 inch Chainsaw
The best deal around 200 dollars would be the Husqvarna 120 gas powered 16" chainsaw.
Gas powered chainsaws are usually more powerful than electric saws and are ideal for cutting large amounts of firewood.
This gas powered saw is EASY to start and EASY to handle.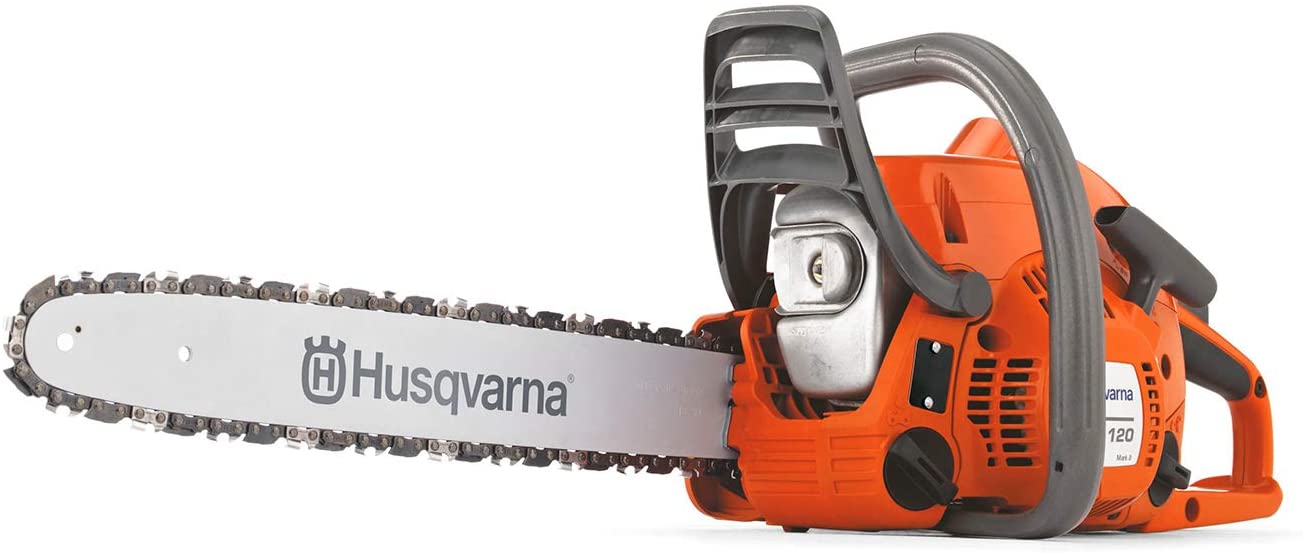 There is no cumbersome cord to get in the way, and LowVib technology reduces the vibrations which commonly cause user fatigue.                                                                              

A search of the internet and various dealers has shown a few for under 200 dollars.
Rebates can really help.
This high performing chainsaw has a 38-cc, 1.8-HP X-Torq engine that increases fuel efficiency and reduces emissions.
Improved engine life is guaranteed, as it comes with a centrifugal air cleaning system developed by advanced air injection technology.
The Husqvarna 120 is definitely the best buy and one of the leaders when it comes to the most desired brands.
NEOTEC 20 inch 62cc Gas Chainsaw
Although it might not have the same brand recognition as Stihl or Husqvarna, the NEOTEC 20 Inch is a powerful saw for a great price.
The bar length is a little longer than desired at 20 inches, but this only expands the opportunities for usage when it comes to cutting firewood.
You can cut down some pretty big trees with this saw and more power doesn't necessarily mean more cost in this circumstance.
Being able to cut down 18 inch oak trees for firewood (without any worries) is a big bonus.                                                                                      
The NEOTEC weighs only 14.4 lbs. making it relatively portable and easy to operate.
Also, it's gas powered so there's no batteries to recharge or electric cords to get in the way.
Let's view some of the specs for the NEOTEC 20 inch chainsaw:
66CC Power- It has a steel bar spring (built in) that reduces starting resistance.
Made of German Steel- German steel is well known for its durability and strength.
Double Piston Ring- Double piston rings on the engine extends service life, makes better sealing performance, and improves overall machine power.
SOYUS 40V 16 inch Brushless Cordless Chainsaw
The next chainsaw we'll look at is the SOYUS 40V 16 inch Brushless Cordless chainsaw, which comes with batteries and charger.
SOYUS Battery Powered Chainsaw
This is a nice, safe, and easy to use chainsaw.
Here are some of its special features:
Battery Operated- The SOYUS 40V 16 inch comes with TWO 4.0ah POWERALL rechargeable batteries, which provide more power and time, with little memory loss.
Automatic Oiling System- It has a transparent oil window and a large oil tank (9.5 oz). The oiling system automatically lubricates the chain.
Dual Safety System- This chainsaw has dual switches which need to be pressed at the same time in order to start the engine.
No-Tool Chain Tension Adjustments-  Adjustments of the chain tension can easily be made with your bare hands.
JIECO 16 inch Electric Chainsaw
And last on the list is the 16-Inch Electric and Cordless Chainsaw made by JIECO.
This chainsaw has a dual battery design and comes with two 24V 3.0Ah battery packs along with chargers.
You can expect longer battery life.
The really good thing about these battery packs is the fact that they are compatible with almost all 24V power tools.
It's equipped with a safety switch to prevent accidental opening, and it also has a nice wide hand guard as an added safety feature.
You will get more power and torque with this saws high efficiency brushless motor, plus longer running time and noticeably less vibration.
When you are spending long hours cutting firewood this will really make a difference in comfort and efficiency. 
All in all it calls for a longer motor life, which is important, especially in this day and age when cutting financial corners is a matter of wisdom and survival.
There is no " guess-work" involved when it comes to lubrication of your chain and saw blade, as this is done automatically.
Also you can adjust the chain through the "tool-free" tensioning system.
Two matching chains are included for replacement making this an excellent choice for easy firewood cutting needs.
Best Chainsaw Under 200 Dollars - Overall
You will enjoy some wise shopping when it comes to looking for the best chainsaw for the best price.
As mentioned earlier, more cost doesn't necessarily mean a better product.
Whether or not you decide on a gas powered or electric powered saw is totally up to you.
They both have their advantages.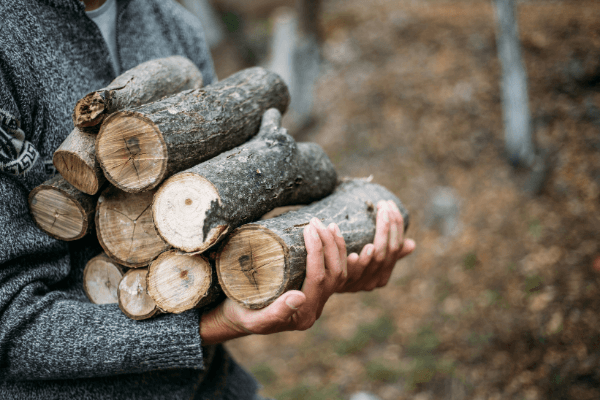 A lot of times when you're cutting firewood, it's more convenient to use a gas powered saw, where the fuel source can be carried in containers of any desired amount.
The problem with electric, or battery powered saws, is the fact that electric is not always easily available.
The batteries usually operate for 1- 2 hours or so, and then they will need to be charged again.
This is fine in a backyard scenario.
Plus, batteries are fairly expensive if you decide to buy enough to get through a days work away from a charging source.
It is true that gas powered saws produce a variety of pollutants, including carbon monoxide.
If you feel that the gas powered model is the one for you, make sure you use it in an open environment and that it is well maintained.
Finding the best chainsaw under 200 dollars ultimately comes down to personal preference, but taking the time to do a little research can reward you with a saw you'll love and use for many years to come!