Kitchen Wood Stove
This post may contain affiliate links so I earn a commission. 

The kitchen wood stove is one of the most useful and at times, important appliances in your home. 
It provides a connection and warmth that should be at the heart of every household. 
In times of emergency when there is energy or fuel shortages there is nothing that can beat the reliability and efficiency of having a wood burning cook stove in your kitchen.
While it is true that regular wood stoves can be used to cook on in a pinch, they do not offer the same level of convenience and enjoyment that comes from having a wood cook stove.
Cooking with wood has been a long tradition in most cultures, and if you ask anyone who has experienced it, they will tell you that food tastes better and feels more vibrant when cooked with wood.  
I have found this to be true as well, having tasted many dishes from a wood cook stove that just seem special when compared to their counterparts cooked with electricity or gas.  
Modern Kitchen Wood Stove Options
Manufacturers like Esse, continue to make modern versions of the classic kitchen wood stove.  
Their units range from stoves that integrate into your kitchen seamlessly with minimal required offsets, to models in its Ironheart range which are created with a simple aesthetic and appeal to warm any hearth.
For those who are not interested in their kitchen wood stove being anything more than a heater, Esse offers the Bakeheart and Warmheart.  
Like their larger counterpart the Ironheart, the smaller stoves have clear ceramic glass fronts so not only does the wood fire warm you, it also provides you with warm and visually stunning light.
The smaller stoves also offer you a covered burner on top and if you choose the Bakeheart model, you get an oven. 

While consumers often expect that wood stoves in general do not change that much, that could not be further from the truth.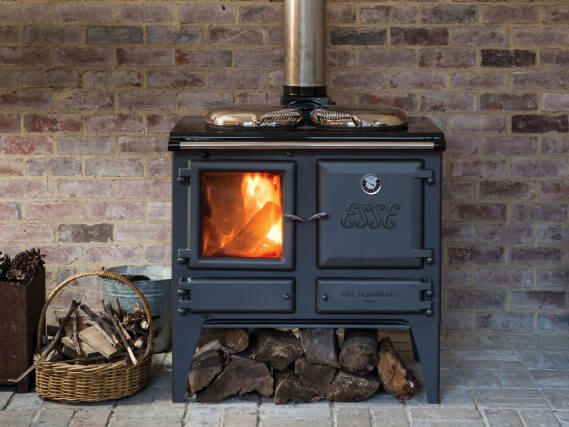 Esse Ironheart
Efficiency and quality of design are constantly evolving, something that one look at Esse's kitchen wood stoves will quickly show you.

If you have never experienced a wood burning cook stove in your kitchen then you can hardly imagine the joy and vibrance they bring to a home. 
With a wood cook stove, your kitchen becomes the center of your household when socializing and having family get togethers. 
The warmth and ambiance they give your home throughout the coldest seasons is unparalleled. 
Kitchen Wood Stoves - New vs Old
There are so many different positive aspects to having a kitchen wood stove.
Few things can change the aesthetics of an environment the way a wood stove can.  
Rarely can you improve the style, function and safety of your living environment all at the same time, while providing heat for your home from an activity you need to do anyway....like cooking.

Establishing your own personal style is important to creating the warm and inviting home that you want. 
While many people look for their style in antiques, with kitchen wood stoves you can find those same styling cues that you love in something modern and efficient.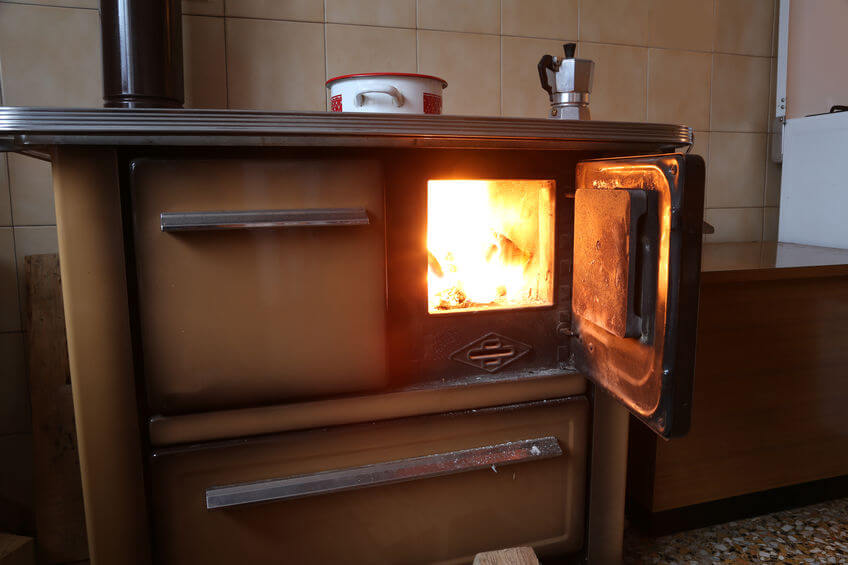 Older Kitchen Wood Stove
Many users of old wood cook stoves know that they can be finicky, requiring almost constant attention and feeding to keep them at the desired temperature.
Newer designs and emissions requirements give you reliability and piece of mind developed across many generations, while also utilizing modern high quality metal production practices.

What you are getting will outperform the older generation in every category including style.
Imagine coming in from a morning outside in the snow, after hours of the whole family sledding or snowshoeing in the woods and finding your kitchen wood stove warm and waiting for you to stoke it and put on some water for tea.  
Or fresh fall days bringing in the last of the harvest and preparing things for winter, while your kitchen wood stove takes the overnight chill out of your home so it is welcoming at lunch time.
Modern kitchen wood stoves can do all of that and much more, because they are built to provide more than just heat for cooking.
Vermont Kitchen Wood Stove
Kitchen wood stoves like the Vermont Bun Baker XL Wood Cook Stove are more compact than their older relatives. 
This allows them to take up small amounts of hearth space like the Esse Bakeheart and Warmheart but with the added benefit of a ceramic glass front to the oven as well as the firebox, so you can bask in the warm glow of the fire while watching your meal bake.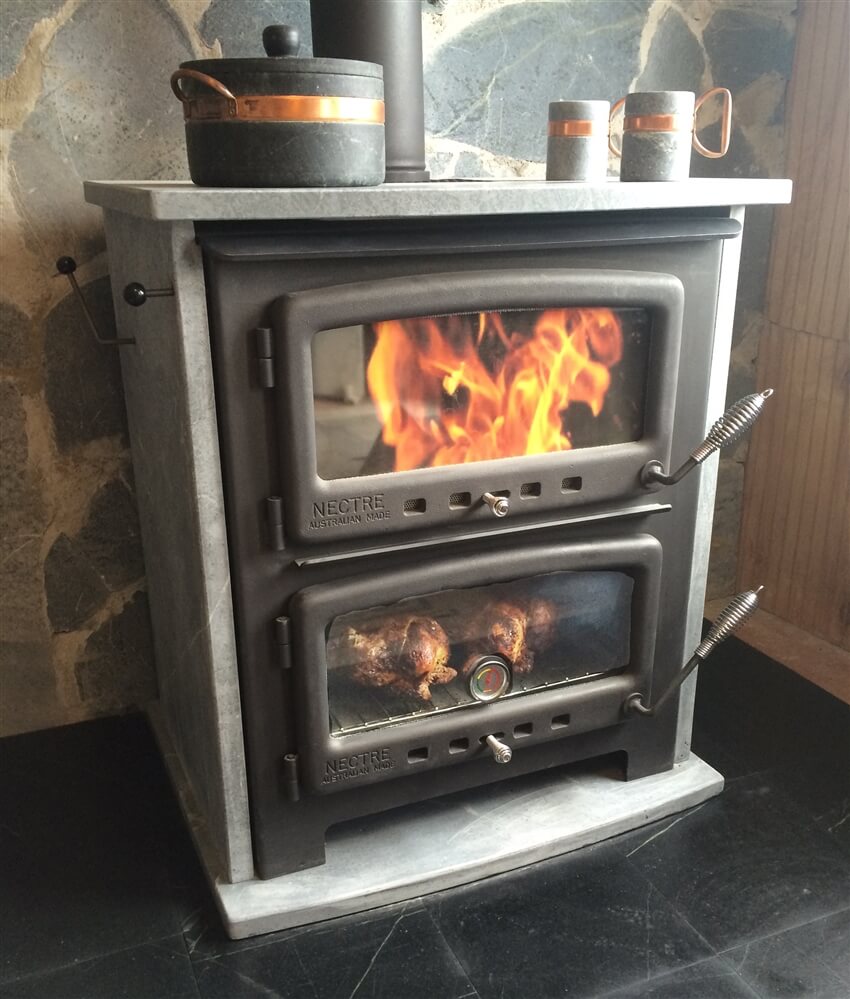 Vermont Bun Baker XL
It offers the convenience and long burning potential of up to 20" long logs with a maximum heat output reported as 65,000 BTUs.
With an optional water jacket it gives you the added bonus of being able to utilize it for heating water, just another consideration when you are preparing your home to support you through whatever nature brings.
Kitchen Wood Stove - Overall
With all of the potential ways there are to improve your home, few if any offer you all of the potential benefits that a kitchen wood stove brings. 
When considering convenience, safety, and efficiency, it can be easy to forget one of the most important things.....savings.
Your kitchen wood stove can save you a whole lot of money over both yours and its lifespan. 
Electricity and gas are not getting any less expensive and being able to provide your own energy source from your own land or other local woodlot is a great feeling.  
That, coupled with using renewable resources efficiently make good environmental practices as well.

Whether you are a current owner of a kitchen wood stove or you are interested in putting one into your home in future renovations, it is worthwhile looking into the continued improvements and efficiency of wood cook stoves. 
It does not necessarily take a large amount of work to make your home ready for one.
If you are lucky enough to have a home with a kitchen heath already installed, it should be fairly easy to retrofit it for your needs.  
If you do not already have a kitchen hearth it may be easier than you think to put in a metal chimney and lay down a fireproof hearth. 
Kitchen wood stoves are designed to be safe and easy to integrate into your home, with small required offsets and new compact designs, fitting one will be easier than you think.