We hope you love the products and ideas we recommend!  As a reminder, we may receive a small share of the sale. Click here for more information.

Bulk Firewood
Do you burn a lot of firewood? Looking for a good deal? Try buying bulk firewood. Just like anything else (typically), the more you buy the more you save.....and firewood is no exception.
We typically try to cut our own firewood, but sometimes when life just gets to busy we will buy it. When I purchase firewood I look at two things....quality and price.
Good quality firewood at a great price? I almost smile just thinking about it! So where do you look and what is quality firewood?
If your looking to buy firewood to use this year, the wood should be dry or seasoned.
Look for wood that has a moisture content of 20 percent or less.
Why seasoned firewood? Seasoned firewood generates the most heat and decreases the possibility of creosote buildup in your chimney. Don't' buy green, wet firewood and expect to burn it immediately.
Now for the price. One thing I've found about firewood is that the price varies a lot depending on where you live. 
So, to help you find the best deal possible, here are a few things I've done to help reduce the price.....and get a lot of firewood in the process.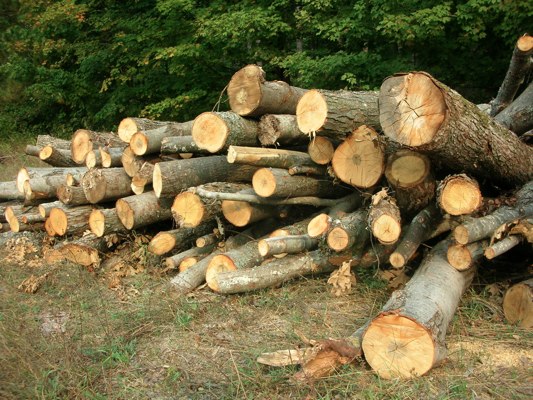 You Just Have To Ask
This might be the hardest thing for some people to do. Do you want a good deal and plan on buying a decent amount of wood from one supplier? Ask them if they will give you a reduced price for large quantity purchases.
I did this a couple years ago when I bought firewood from a guy who lived down the road. He had his property logged and he cut all the left over tree tops into firewood. He had a huge pile of wood.
I originally went looking to buy a few trailer loads full but I really needed firewood and thought, why not just ask. So I did! I ended up buying the whole pile of wood and received 2 trailer loads for free because I bought it in bulk.
Bring In The Semi Trucks
If you have the room, buying firewood by the semi load can save a lot of money. The wood typically comes in 8 foot lengths often referred to as a "pulp cord" or "loggers cord."
The one drawback to this method is the fact that you have to cut it up yourself. If you have the equipment and don't mind the extra work, buying bulk firewood by the semi load can be great.
Have It Delivered
This is probably the easiest way but it's also one of the most expensive. Some suppliers will advertise bulk rates while other may not. Chances are if you ask you might just find a good deal.
Where do you find a supplier? Word of mouth is usually one of the best ways. If you have a neighbor or friend that burns firewood ask them where they bought their wood.
Check online at places like Craigslist or look in you local paper. If you plan on having the wood delivered it's usually cheeper to find a local supplier because they factor in the distance with their price. This is another reason why buying in bulk can be cheeper because the supplier can deliver more wood with fewer trips.
Overall
Overall, buying bulk firewood can be a great way to acquire firewood at a decent price. If you burn a lot of firewood each year and don't want to pay full price, enquire about buying it in bulk......you never know what you might find.
Return from Bulk Firewood to Buying Firewood